Dragon Skills
Edit
Dragon Combat Skills are indicated with a silver border and are listed as either passive or active. The skill level can be raised via the Dragon's Lair by scheduling Skill Training or by converting Companion XP into Combat Skill XP through the Dragon Info interface. The amount of Skill XP received as a job reward can be improved with an Elite Skill (Skill Training Mastery).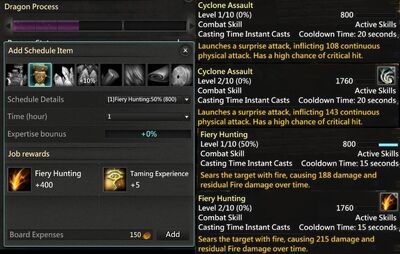 Example: Every hour of skill training raises a skill's experience by 400 points.    
You can increase the amount gained by increasing the factor by spending SC up to 3X.  Every 6 hours costs 180 SC to triple the amount of training.
Companion XP is awarded by killing things of similar level to you when your dragon is summoned. Clicking the button between the two XP bars on the Dragon Info page will allow you to convert the experience.
600 Companion XP creates 1 Combat Skill XP. To apply the Combat Skill XP to a skill, click the arrow on the bottom right of a skill icon.
Total Combat Skill XP Needed for Skill Level 1-10:
Level 1-2 - 800
Level 2-3 - 1760
Level 3-4 - 2880
Level 4-5 - 4160
Level 5-6 - 5800
Level 6-7 - 8320
Level 7-8 - 11200
Level 8-9 - 14820
Level 9-10 - 18920
Total XP - 68660
Skill Styles

Edit
During a patch on June 26th, 2014dragon skills were sorted into the following four categories:
Passive Skills
Edit
Active Skills
Edit
Ad blocker interference detected!
Wikia is a free-to-use site that makes money from advertising. We have a modified experience for viewers using ad blockers

Wikia is not accessible if you've made further modifications. Remove the custom ad blocker rule(s) and the page will load as expected.