Consus Cave

Entrance

Map
Vital statistics
Type
Instance
Level
10
Location
Puretia
Inhabitants
Plants, Dragons
Information
Edit
Type: Instance
Players: Solo (Explore)
Required Kills for Dungeon Quest: 30
Rare Dragon: Raging Storm
Dungeon Ancient: Indigo Flare
Entrance Text
Edit
Consus Cave has been the habitat of strong, land-dwelling Dragons since ancient times, but recently, a large number of flying Dragons have migrated here and killed many of the indigenous species. The substantial decline of the land-dwellers has Helmoth residents concerned, as their livelihood depends heavily on natural resources and they must now contest the invading brood of predator Dragons for them...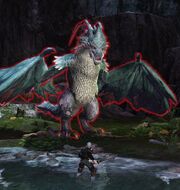 Ad blocker interference detected!
Wikia is a free-to-use site that makes money from advertising. We have a modified experience for viewers using ad blockers

Wikia is not accessible if you've made further modifications. Remove the custom ad blocker rule(s) and the page will load as expected.