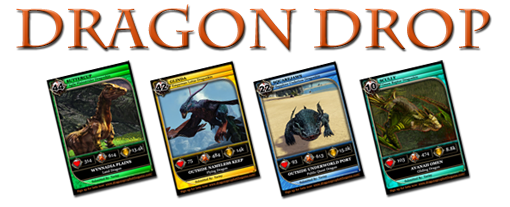 Dragons, dragons, dragons! Dragon's Prophet is all about them! Now that the NDA has lifted and we've entered Open Beta, we're letting you show off your dragons in style – with our new Dragon Drop cards! Use these digital cards to keep track of and share your fast-growing collection of dragons! Download our templates and make your mark now!
Curious about how it works? It's easy! Just download the Dragon Card template (there's one for each type: aqua, flying, gliding, and land). Then open up the file in your favorite image editing program (we suggest Adobe Photoshop or Gimp) and fill in the following areas:
Name you've given the dragon

Dragon species name

Screenshot of your dragon

Constitution

Physical Attack

Physical Armor

Notes about your dragon (optional)

Your character's name
This information is located in the dragon stable interface, which can be seen by pressing P on your keyboard (or by hitting Escape and selecting the dragon icon at the top of the menu).
When you're finished, save the image for web, create a new wiki page with the title "Dragon Drop - Dragon Name - Character Name," upload the image to the Official Dragon's Prophet wiki, copy and paste the text from the Dragon Drop wiki template to your new page, and edit the fields to make them custom to your dragon. Then you can share it with us on the Dragon's Prophet Facebook and Twitter channels, your own social media channels, or wherever else you want! Questions? Comments? Excitement? Head on over to the forums and give us your inquiries and feedback.
So go forth and play with your very own dragons! And if you haven't yet signed up for Dragon's Prophet, sign up to play for FREE now by going to www.dragonsprophetthegame.com. 
Want to see some examples? Check out ours here!
Ad blocker interference detected!
Wikia is a free-to-use site that makes money from advertising. We have a modified experience for viewers using ad blockers

Wikia is not accessible if you've made further modifications. Remove the custom ad blocker rule(s) and the page will load as expected.