Warning: Monsters in the housing area are over level 35 and the area is open to PVP, but while on your dragon you have a buff that protects you from damage. A warning will come up when you enter active PVP areas; the mines on each island. However, staying mounted does seem to protect you even while in these areas. Events may occur which turn an entire island into active PVP. The Citadel, a guild castle, is currently unoccupied but believed to be obtained through PVP conquest of Alliances.
Player Housing and Getting ThereEdit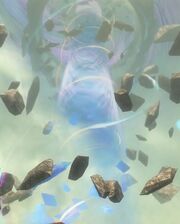 Players may lease property in the game. The housing area is persistent and currently has 12 islands. To learn more about them visit '
Baerton Islands'
.
To access the housing areas you must first enter the 'Path of Elders' portal that is just northeast of Arteicia in the Laedis Zone.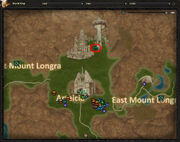 Access to the portal can be by flying mount or by elevator if approaching from ground level.
After you have entered the portal a map of the islands will be displayed and you can choose which of the islands you wish to visit.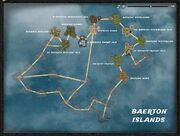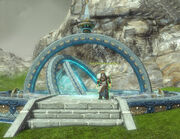 Once you have chosen your island you will get a load screen and you end up at the 'Path of Elders' portal manager. You may have a conversation with him if you wish. He provides an assortment of information about the area. To exit the housing area use the Path of Elders portal and it will return you to Arteicia.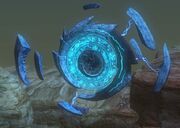 There are Quezak Gates on each island that will allow you to navigate between islands without having to exit and re-enter the Path of Elders portal. Simply fly into them to activate the island menu.
Purchasing Property and Plot Pricing
Edit
The prices for property have been lowered from their original suggested prices. However, the rent for land is still paid on a DAILY basis. There are a couple different options for having your own space to call home. The first is by purchasing a plot of land (there are a variety of sizes), and the second is by renting an apartment (It should be noted here that your land does not come with any buildings or furnishings, you need to purchase or build those yourself).
With option one other players can see your land, buildings and furnishings. Apartments appear to be 'instanced' with all tenants sharing a common entrance.
Renting Apartments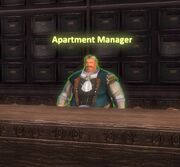 To rent an apartment you must speak with the Apartment Manager. There is at least one on every island.
Starting a conversation with him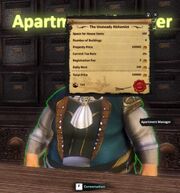 will open up the purchase menu which shows you the price of purchasing an apartment along with all the other pertinent information.
The portal to enter your apartment is located at the top of the stairs next to the Apartment Manager.
| Apartment Portal | Apt Portal |
| --- | --- |

Purchasing Plots of Land
There are two ways to purchase plots of land; with in-game currency, or with a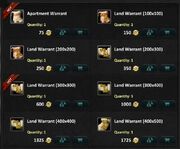 'Land Warrant' that is purchased with Station Cash.
Plot Prices
Plots of land that are available for purchase will have a border of wooden posts surrounding them.

To purchase a  property you need only interact with the sign attached to the property and it will bring up a purchase menu.
Image Needed for

400 x 500

Image Needed for

500 x 600